Can Damage To The Kidney Filters By High Blood Pressure Be Reversed
2014-11-23 02:08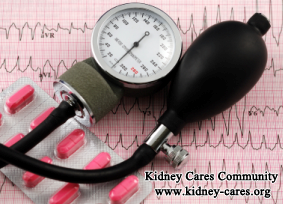 Can damaged kidney filters by high blood pressure be reversed? High blood pressure or hypertension is a leading cause of kidney disease. It can do damage to the blood vessels and filters in the kidney, making removal of waste from the body difficult. When kidney failure occurs, dialysis or kidney transplantation are necessary.
Can you reverse kidney damage caused by hypertension?
As we all know, kidney disease can be classified under two categories namely acute and chronic renal disease. Acute kidney disease has no lasting effects and is reversible. However, chronic kidney disease is a more complicated disease. It is often associated with other long term conditions like high blood pressure and diabetes. Chronic kidney disease is a progressive disorder and the damage caused to the kidneys in this condition is often irreversible.
Although the damage to the kidney filters by long term of high blood pressure is irreversible, a person with the condition tends to have a normal life span as long as the primary disease condition is treated adequately.
How to treat kidney disease?
Chronic kidney disease is a progressive disease and it is irreversible. However, you may be able to slow progression of your kidney symptoms by keeping your high blood pressure under good control. Angiotension (ACE) inhibitors used to control blood pressure can help slow the loss of kidney function. Medications only control symptoms but fail to treat kidney damage. Thus, we use Micro-Chinese Medicine Osmotherapy to repair kidney damage and improve renal function. This is because the active ingredients in Chinese medicines can come to the kidney lesion directly with the action of osmosis device. Chinese medicines have functions of dilating blood vessels, preventing inflammation and coagulation, degrading extracellular matrix, improving blood circulation and providing necessary nutrients. Gradually kidney damage can be restored to some extent. More importantly, kidney function can be enhanced effectively. Only when kidney function is improved can wastes be removed from the body naturally. High blood pressure will also be lowered effectively.