Does Fish Oil Improve Chronic Kidney Failure
2014-07-02 08:27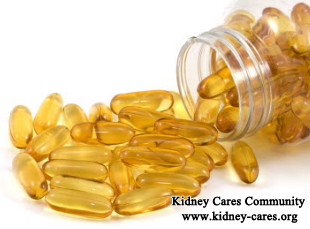 More and more kidney experts are suggesting that their patients begin a fish oil regimen. Fish oil provides long-term benefit for dialysis patients and kidney failure patients. Here we will give you detailed information on fish oil.
Fish oil can have the following healthy benefits for kidney failure patients.
1. Lower inflammation
Fish oil products can lower inflammation in the kidneys. It does that by lowering the production of various inflammatory mediators, such as cytokines, and even nitric oxide, which can damage the kidneys.
2. Reduce blood pressure
High blood pressure is the major cause of kidney destruction. Fish oil also can lower blood pressure.
3. Control elevated blood lipids
Fish oil helps control elevated blood lipids and it offers another protection for the kidneys.
4. Alleviate itchy skin in dialysis patients
Patients with kidney failure require long-term hemodialysis in order to remove waste products from the blood. Uremic pruritus or renal itch affects over 80% patients on dialysis. Patients given 6 grams of fish oil had significantly less severe itching than people with a similar daily dose of olive oil or sunflower oil.
5. Enhance immune function
Fish oil rich in DNA and EPA is widely believed to help prevent disease by reducing inflammation. With strong immune system, immuno-inflammatory responses will be blocked by a large degree and inflammation in kidney lesion can be prevented. Thus, kidney damage can be alleviated and stopped.
6. Protect heart
Fatty acids in fish oil can help reduce the risk of heart disease. Fish oil helps the heart by lowering triglyceride levels and blood pressure, regulating abnormal heart rhythms and slowing the buildup of plaque. DHA and EPA are two reasons which are beneficial to heart health.
Fish oil does do help to improve kidney function. Of course, the amount of fish oil intake should be moderate. If you want to know how much fish oil you can take, you can send your test reports to kidneycares@hotmail.com or renal experts. We will tell you the dosage according to your medical conditions.