How does Kidney Failure Cause High Creatinine Level
2014-06-10 08:39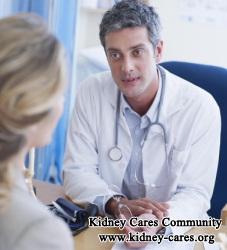 Creatinine level is also an important indicator to know how is kidney function. Patients with kidney failure are very prone to getting high creatinine level. Here we will mostly talk about how kidney failure cause high creatinine leve and how to help lower it well, hoping useful and helpful for you.
Firstly, see how high creatinine level is caused by kidney failure.
For patients with kidney failure, kidney is damaged, and kidney function decreases continuously. And we all know that kidney can filter the blood, removing wastes and toxins from body through urine. Thus, when kidney function decreases, kidney can not remove much creatinine from body through urine. In this way, creatinine can deposit in body, leading to high creatinine level.
The more serious kidney function is, the higher creatinine level is. And the normal level of creatinine ranges from 0.5 to 1.3 mg/dL. In general, when creatinine level increases to 5, dialysis is always recommended to replace kidney function to filter the blood. Thus, it is very necessary for patients with kidney failure to reduce creatinine level.
Then how to treat high creatinine level effectively?
Avoiding meat in daily life is essential, because it is found that much creatinine is contained in meat like pork, chicken or mutton.
Chinese medicines can help recover kidney function by promoting blood circulation, expanding blood vessels, preventing kidney inflammation and repairing kidney damage. In this case, kidney can eliminate much creatinine from body through urine, lowering high creatinine level very well.
As a consequent, patients with kidney failure are worthy to have a try of Chinese medicines to treat high creatinine level, and a healthy diet is also necessary for patients with high creatinine level. More information or any question, be very free to contact us freely any time.