What Happens During Kidney Failure
2014-03-29 12:00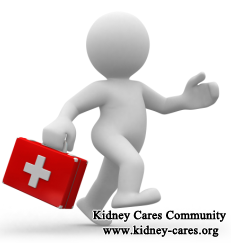 Kidneys are important organs in our human body and responsible for discharging excess water and wastes out of body, balancing electrolytes, regulating blood pressure as well as secreting hormones. Whereas if the kidneys are damaged, a series of disorders will occur. As for kidney failure, the symptoms become more severe due to badly kidney damage. Well what happens when the kidneys completely fail?
Completely and irreversible kidney failure is sometimes called end-stage renal disease or ESRD. If your kidneys stop working completely, your body will be filled with extra water and waste products, which is called uremia. And your hands or feet may swell. Also your feel tired and weak because your body needs clean blood to function properly. As the same time, with hormone-erythropoietin deficiency that a healthy kidney would produce, your bone marrow becomes less efficient at producing red blood cells, thus causing anemia.
With kidney failure, it can cause quite a wide range of symptoms such as swelling, anemia, high blood urea nitrogen and high creatinine level. Not everyone will experience all the symptoms. Besides, your doctor may offer dialysis or kidney transplantation.
It replaces kidney function partly to discharge some wastes and toxins out of the body. It is usually done three times a weeks in hemodialysis. For peritoneal dialysis, patients can perform it themselves. Dialysis can help alleviate symptoms to some extent like edema, high creatinine level and itchy skin. Meanwhile it also causes certain side effects such as low blood pressure, headache, bloating body and so on.
Kidney transplantation
The kidney you receive must be a good match for your body. The more the new kidney is like you, the less likely your immune system is to reject it. The immune system will attack a kidney that appears too foreign. Thus, you need to take special drugs in your rest of life to help trick your immune system so it does not reject the transplanted kidneys.
Kidney failure will cause a wide range of the above symptoms. Due to its severe condition, dialysis or transplantation may be offered. Each of them will carry some side effects. On the contrary, Chinese medicine therapy may be the best option for kidney failure patients. It can not only alleviate symptoms but also strengthen kidney function naturally.