Is prevacid Good For Use With Kidney Failure
2014-03-15 10:57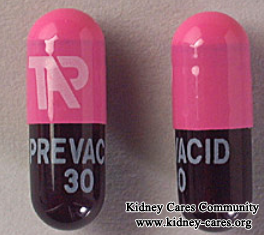 Recently we received a message from one of kidney failure patients. He asked if it is safe for him to take prevacid. Here I will analyze the answer to him.
To tell him the truth, it is not good for kidney failure patients to take prevacid. Follow me to find the reason.
Prevacid has active ingredients of lansoprazole which is often used to treat gastroesophageal reflux disease, gastric ulcer. However, long-term use of prevacid will cause adverse effects including nausea, fatigue, chest pain, weakness and pain exacerbated. And on Feb, 25, 2014: 38,749 people reported to have side effects when taking prevacid. Among them, 983 people(2.54%) have kidney failure. Besides, prevacid usage is associated with time, age, gender. For renal failure patients, they should tell their doctors if they take blood pressure medicine, aspirin and water pills as medicines in prevacid can affect other medicines you take and sometimes cause serious side effects. For instance, use of high doses of prevacid for a long time may cause bone fracture of the hip. The risk of bone fracture is increased in patients with existing osteoporosis and in renal failure patients over 50 years of age who take high dosages of prevacid. Another example is that long time usage of prevacid will cause liver failure. This is because prevacid is metabolized in the liver. The liver breaks down prevacid into by-products that can be excreted from the body. Long-time exposure of the liver to high levels of prevacid will damage liver cells and lead to liver failure. When liver failure appears, signs and symptoms including itching, nausea, loss of appetite, abdominal pain, vomiting and dark urine and yellowing of the eyes and skin. All of these symptoms will exacerbate renal failure conditions.
Prevacid has a significance in treating gastroesophageal reflux disease, stomach ulcers, whereas for renal failure patients they had better not take prevacid. If you want to know further information, you can leave us a message to kidneycares@hotmail.com. We are always here to help you.