How Does Salvia Miltiorrhiza Treat Kidney Failure
2014-03-02 14:38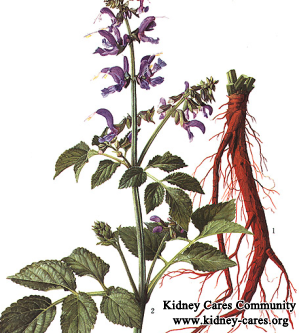 Salvia miltiorrhiza has been widely used in China for at least thirty years. In 1989, Japanese researchers reported that salvia is responsible for promoting renal function and has curative effects on kidney failure treatment. How does salvia miltiorrhiza treat kidney failure?
1. Salvia miltiorrhiza is helpful for the treatment of cardiovascular disease
Atherosclerosis disease, especially stroke and coronary artery disease, is the most important health issue. And high blood pressure is an important predisposing factor. High blood pressure with subclinical target organ damage or cardiovascular risk factors like diabetes or injured kidney function tend to the atherosclerotic complications. In this case, salavia miltiorrhiza is commonly used to treat cardiac symptoms and atherosclerosis-related disorders. This is because salvia miltiorrhiza is able to prevent blood clots from forming and improve blood microcirculation as well as extend peripheral vascular vessels to increase blood flow. All of these contribute to reducing the risk of cardiovascular disease.
2. Restore kidney function
According to Traditional Chinese Medicine(TCM) theory, salvia has been proven that it has the actions of activating blood circulation and removing blood stasis. Besides, it can also ameliorate renal ischemia, improve blood circulation and microcirculation in the kidney so as to enhance the oxygen utilization ability of restoring kidney tissues and accelerating kidney repair process. When kidney function is improved gradually, you can still live longer with kidney failure.
3. Reduce blood lipid, high blood sugar and high blood pressure
Salvia miltiorrhiza has good effects on diabetes, high blood pressure and hyperlipidemia patients.
Apart from the above function of salvia miltiorrhiza, it also can promote the regeneration and restore of tissues, protect liver function and have antibacterial effects.
Generally speaking, salvia is able to enhance the curative effect of immunosuppressant, protect renal tubular epithelial cells and accelerate the recovery of renal function. Besides, other Chinese herbs also have good curative effects on restoring kidney function and protect residual kidney function. If you want to know more information on Chinese herbs healing kidney problems, feel free to leave us a message to kidneycares@hotmail.com. We will reply you as soon as possible.