Ketosteril:Curative Effects On Kidney Failure Patients
2014-03-02 09:55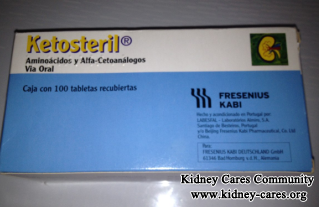 Ketosteril is a common medicine for various kidney problems, such as relieving symptoms due to accumulation of metabolic wastes and toxins, improving complications in renal failure and providing essential nutrition for patients with low protein diet. What are the curative effects of ketosteril on kidney failure patients?
The below will give you an introduction of ketosteril's curative effects on kidney disease.
1. Lower high creatinine level
The main components of ketosteril are amino acids and calcium amino acid compounds. It is able to provide essential amino acids and reduce the intake of amino nitrogen. In addition, it can make use of nitrogen in non-essential amino and transform them into amino acids so as to reduce the production of urea nitrogen and alleviate the accumulation of nitrogenous wastes and other toxic substances in the body. In this way, high creatinine level can be lowered and also reduce the burden to the kidneys.
2. Regulate metabolic disorders
Ketosteril is also able to regulate metabolic disorders like calcium, phosphorus, sugar and lipid, which is beneficial for alleviating hyperphosphatemia, bone problems, reduce insulin resistance and triglyceride. In this light, high blood pressure and diabetes patients can benefit from it.
3. Protect kidney function
Ketosteril treatment is not only able to relieve kidney failure symptoms, but also can help postpone the progression of kidney failure and protect residual kidney function so as to prevent further kidney damages.
All in all, ketosteril treatment is vital for kidney failure treatment. Although it has the above curative effects, it also has some side effects which need your attention. For instance, ketosteril is prone to cause hyperphosphatemia, so you should do regular check of calcium concentration in the blood. With abnormal high blood calcium level, you need to reduce the intake of vitamin D.
Ketosteril has curative effects on kidney failure patients. However, its curative effects should also be kept in their mind. Other treatments, like Micro-Chinese medicine osmotherapy, medicated bath, foot bath and immunotherapy can be your alternative option.