Can Acupuncture Cure Shrunken Kidney
2013-12-19 10:59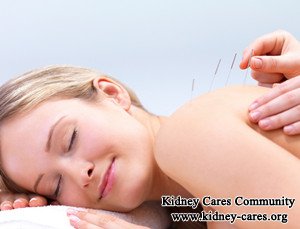 Shrunken kidney is a condition in which kidneys diminish in size. When kidneys shrink in size,they will fail to function adequately. Acupuncture is a natural remedy for kidney disease.Can it cure shrunken kidney?
Acupuncture
Acupuncture is an important part in traditional Chinese medicine(TCM).It is a practice of inserting needles in specific points on the body to manipulate the flow of energy of Qi.This therapy has been applied to treat a variety of aliments up to now. As no drugs are involved in the treatment process,it is free of adverse effects on body.
Shrunken kidney
Shrunk kidney results from impairment and scarring of nephrons.Nephrons are the basic functional units of kidneys and every kidney is composed of around one million nephrons. However,a variety of diseases and conditions can affect nephrons in an adversely.When the number of healthy nephrons decreases,it will result in shrunken kidney.A person with shrunken kidney often experience a myriad of symptoms and discomforts. When kidneys fail,Dialysis and other replacement treatments will be required.
Acupuncture for shrunken kidney
Acupuncture has many benefits in treating shrunken kidney.It can help relieve pain,regulate blood pressure, enhance immunity and so on. However, as the kidneys are damaged significantly in shrunk kidney, acupuncture alone can not reverse the condition at all.
To increase the size of shrunken kidney,the key treatment goal is to restore the impaired nephrons and increase the number of healthy nephrons.Stem Cell Therapy and Blood Purification will be applied in the whole treatment process.
Blood purification is composed of a variety of methods to filter blood.Based on a patient's illness condition,different types of blood purification methods will be used to purify blood
Stem cell therapy can improve renal function by replacing the necrotic renal cells with new cells.Stem cells are immature cells and they can differentiate into new cells in right condition. When the kidney structure can be restored, shrunken kidney will increase in size and renal function will be improved remarkably.