Can Acupuncture Help Kidney Failure to Prevent Kidney Transplant
2013-12-09 09:27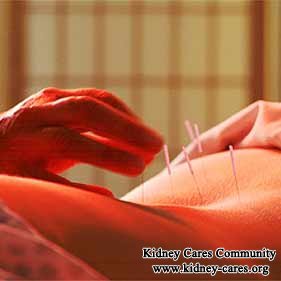 Kidney transplant is a procedure in which the diseased kidney is replaced with a healthy one.If it is performed successfully,the patients will return to normal life.However,it is hard to get a matched kidney donor.What's worse,the patients have to depend on a large dose of immunosuppressive drugs and suffer from an array of complications.Can acupuncture help kidney failure to prevent kidney transplant?
Acupuncture for Kidney Failure
Acupuncture is one of treatments in traditional Chinese medicine (TCM).It has been applied to treat a host of diseases and aliments up to now.Acupuncture is a collection of procedures involving penetration of the skin with needles to stimulate certain points on the body.It can manipulate the flow of energy or Qi.In treating kidney failure,acupuncture can relieve high blood pressure, pain and improve the overall health.However,it is not enough to reverse kidney damage to help kidney failure patients prevent Kidney Transplant.
How to prevent kidney transplant in kidney failure?
Kidney transplant is prescribed when kidney tissues and cells are damaged significantly.To prevent kidney transplant,the patients should have a treatment to repair the impaired kidney structure and enhance renal function.
Stem Cell Therapy is an effective treatment for kidney failure.It can make the kidneys function better by reversing kidney damage.
Stem cell therapy refers to infusion of stem cells into body.Stem cells are a group of immature cells in body with powerful differentiating capacity.In right condition,they can differentiate into new cells that body needs.
In treating kidney failure, stem cells can differentiate into new renal functional cells to replace the damaged and necrotic renal cells.In this way,the impaired kidney structure will be restored and the kidneys will return to function better. If so, kidney transplant will not be required.