How to Raise Hemoglobin (Hb) in Kidney Failure
2013-09-07 11:51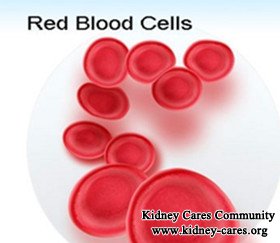 In some cases, tests for kidney failure may show lower levels of hemoglobin (Hb).How to raise Hb level is frequently asked by the renal patients.
Why does hemoglobin (Hb) level decrease in Kidney Failure?
Hemoglobin is the iron-containing oxygen-transport metalloprotein in the red blood cells.In right condition,the normal results of hemoglobin (Hb) vary between 13.8 to 17.2 gm/dL for male and 12.1 to 15.1gm/dL for female.Normal value ranges may vary slightly among different laboratories.
In right condition,kidneys can produce a hormone called EPO, which can stimulate the production of red blood cells.However, in kidney failure,as the kidneys are impaired significantly, they will fail to make EPO.As a result,less amounts of red blood cells will produced,thus resulting in low level of hemoglobin (Hb).
Other possible cause of low level of hemoglobin (Hb) is low level of iron in body.Protein is a major source of iron. However, a low-protein diet is required in kidney failure. Additionally, low level of folic acid can contribute to low level of hemoglobin(Hb).
How to raise hemoglobin (Hb) in kidney failure?
An important treatment goal is to increase the production of EPO.Generally,artificial EPO is used and it can stimulate the bone marrow to make red blood cells.The dose of EPO is prescribed based on the patient's specific condition.
However, use of EPO may cause some side effects. Chat with our online doctor to get to know how to avoid the side effects.
While excessive protein intake can worsen renal function significantly, the patients with kidney failure still need to keep proper amount of protein intake. How much protein you should have each day? Email to kidneycares@hotmail.com to get to know how to arrange protein in daily diet.
Additionally, the patients should increase the consumption of leafy vegetables to provide more folic acid to your body.