Treatment Of Nausea Caused By Kidney Failure
2013-08-28 18:15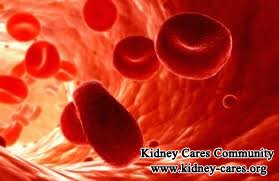 Nausea is a common symptom for patients with kidney failure. If patients experience nausea, they feel uncomfortable and want to throw up. Also, they eat a little food or don't want to eat food, even it is their favorite food. This article recommends how kidney failure causes nausea and how to treat nausea.
How does kidney failure cause nausea?
For normal kidneys, they can filter the blood and discharge out the metabolic waste products and keep the balance of acid-base and electrolyte. When kidneys are damaged, they can not filter out the metabolic wastes and toxins from the body, leading to them buildup in the body. Over a long time, these metabolic wastes and toxins can irritate the bowels, resulting in the nausea.
How to treat nausea caused by kidney failure?
In general, people usually don't have the symptom of nausea. Only when people experience advanced kidney failure, can they feel nausea. So if patients have nausea, they have to go to hospital to check what causes nausea.
If nausea is caused by kidney failure, the key to treat nausea is to repair kidney function. In our hospital, there are two featured treatments for repairing kidney function: Micro-Chinese Medicine Osmotheraphy and Blood Pollution Therapy.
Micro-Chinese Medicine Osmotheraphy: the process of kidney failure is the process of kidney fibrosis. This therapy is to block the renal fibrosis process and prevent kidney disease developing into end stage kidney failure. It can repair kidney function by vasodilation function, anti-inflammation, anti-coagulation and degradation of extracellular matrix. Micro-Chinese Medicine Osmotheraphy can repair kidney function effectively and treat nausea.
Blood Pollution Therapy: nausea is caused by the accumulation of metabolic wastes and toxins in the blood. So if these metabolic wastes and toxins are discharged out the blood, you will not have nausea. Blood pollution therapy is just to remove wastes and toxins and make blood clean. In order to treat kidney disease effectively, our hospital divides the treatment into three process: combined therapy of blood purification, elements supplementation and function rebuilding. This therapy can treat nausea and repair kidney function directly.
For patients with nausea, they have to go to hospital to check the level of creatinine and blood urea nitrogen, etc. This is because many other diseases and cause nausea. You need to receive various of examinations and understand what causes nausea, then you can choose the best treatment for your disease.