Causes Of Decreased Calcium In Patients With Chronic Kidney Failure
2015-09-19 02:55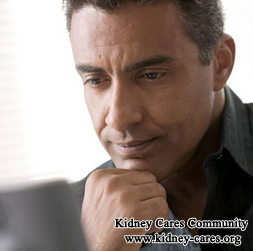 What is the cause of decreased calcium in patients with chronic kidney failure? Kidneys are important organs that help regulate body's fluid and electrolyte balance. When kidneys are damaged, serious electrolyte disorder can occur, including low calcium. Well then, what causes decreased calcium in patients with kidney failure?
1. Pathophysiology of decreased calcium
Kidney failure is a common cause of low calcium or hypocalcemia. When kidneys fail, they are unable to process and filter the blood from waste products, declining its ability to reabsorb calcium and leading to loss of calcium in the urine. Thus, low calcium level occurs. The symptoms of low calcium level include aches, irritability, spasms, tingling of the lips, fingers, toes, and abnormal painful stiffening and spasm of the hands and feet. Other symptoms of low calcium include abnormal heart rhythms, low blood pressure and heart failure.
2. Treatment for low calcium in kidney failure
Calcium supplementation
Calcium supplementation includes oral or intravenous calcium solutions. If given intravenously, it must be given slowly to avoid precipitating an abnormal heart rhythm. Vitamin D supplementation may also be necessary since the vitamin stimulates the absorption of calcium from the gut.
Chinese medicine for repairing kidney damage
As the above has mentioned, the radical cause of low calcium level is injured kidneys so the fundamental treatment should repair damaged kidneys and improve kidney function. Thus, we recommend Micro-Chinese Medicine Osmotherapy which is one of natural Chinese medicine treatments in our hospital. It is on the basis of traditional Chinese medicine (TCM) but used externally. Two medicated bags are placed on patients' back and patients just need to lie on the bed to take this treatment. With the help of osmosis device, the active ingredients can come to kidney lesion directly. Through dilating blood vessels, preventing inflammation and coagulation, degrading extracellular matrix and providing necessary nutrients for damaged kidneys, injured kidneys can be repaired to some extent. And kidney function will also increase gradually. In this way, calcium imbalance and other electrolyte disorders can be regulated.
If you want to learn detailed information about our therapies, you can leave us a message below or send an email to kidneycares@hotmail.com. We will reply you as soon as possible.