What Is The Solution For Itchy Skin For ESRD Patients
2015-07-19 07:38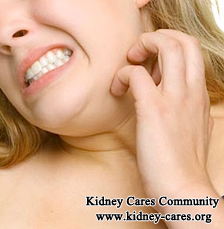 A majority of end stage renal disease (ESRD) patients may experience itching at some point. Some feel itchy all the time while for others it comes and goes. A common cause of itching is a high level of phosphorus in the body. Well then, what is the cream for itchy skin for ESRD patients?
Kidney disease and itchy skin go hand in hand because of the build up of phosphorus and uremic toxins. Uremia is the build up of nitrogenous waste products in the blood that are typically eliminated via the urine. But because the kidneys are not functioning as well as they could, they are unable to eliminate all of the waste products.
What is the solution for itchy skin for kidney disease patients?
1. Chickweed
Chickweed is probably the best plant to reduce itchiness. Mainly used in conditions such as eczema and dermatitis where itchiness is involved, it is a soothing and healing cream for the skin.
2. Oil therapy
You can rub on some olive, almond or sesame oil and massage lightly on to your hands, legs and the rest of your body before heading for a shower.
3. Treat kidney disease as a whole
This is the most fundamental and effective solution for itchy skin in ESRD patients. Our body produces wastes at any time and we can be free from these harmful substances due to strong kidneys. However, once kidneys are damaged, toxins will build up in the blood and stimulate our skin. Thus, treating kidney disease is the most radical and effective solution for itchy skin. In order to treat kidney disease, we recommend Micro-Chinese Medicine Osmotherapy. The active ingredients in Chinese medicines can repair injured kidneys and improve renal function by dilating blood vessels, preventing inflammation and coagulation, degrading extracellular matrix and providing necessary nutrients for repairing kidney damage. With this therapy, itchy skin can be alleviated effectively and radically.