Common Symptoms When A Person Has Kidney Failure
2015-06-16 15:19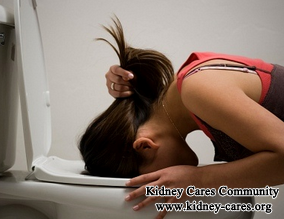 What are the most common symptoms when a person has kidney failure? Kidney failure implies a loss of kidney function that occur rapidly or progress slowly. Symptoms of kidney failure are due to the build-up of waste products in the body. The following will introduce them in detail.
The symptoms of kidney failure include:
1. Edema
Reduced excretory function of kidneys leads to water retention in the body tissues, giving rise to puffiness. Face, hands and legs swell up due to fluid buildup.
2. Difficult breath
The inability to get rid of excess fluid may cause fluid accumulation in the lungs, thus causing shortness of breath. In addition, the oxygen-carrying capacity of blood reduces due to increased blood toxicity, resulting in heavy breathing.
3. Vomiting and diarrhea
The build-up of excessive amounts of urea and other wastes in blood causes nausea and vomiting. Patients in kidney failure generally have vomiting in the morning and vomiting is often accompanied with diarrhea.
4. Bloody stools
In severe cases, kidney failure will lead to gastric or intestinal bleeding. This is indicated by the presence of blood in stools. Black or tarry stools indicate bleeding in the upper gastrointestinal tract.
5. Neurological and neuromuscular symptoms
An increase in the phosphate levels of blood can be caused by kidney failure, which affects the functionof peripheral nerves as well as the neuromuscular functions. This can cause depression, irritability, muscle spasticity, confusion, muscle pain, disorientation and numbness and tingling in the limbs.
6. Urine changes
Either a reduction or an increase in the urine output and frequency can occur in kidney failure. Urinary signs and symptoms of kidney failure include oliguria, hyperuria, excessive urination at night, painful urination, blood in urine, urine discoloration, high amounts of protein in the urine.
The above are some common symptoms in kidney failure. Different person may suffer from different symptoms. If you doubt you may have kidney failure, you can leave a message below or send your medical condition to kidneycares@hotmail.com.