Why Do People in Chronic Renal Failure Have Bone Fractures
2015-06-01 03:50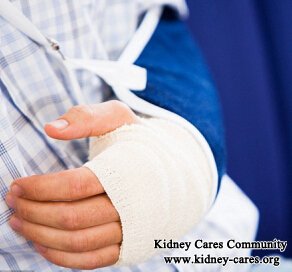 When your kidneys fail to work, many symptoms and complications will appear. Bone fracture is one of them. Why do people in chronic renal failure have bone fractures?
High phosphorus level
The damaged kidneys can not remove the waste products form the blood and they can also not regulate the electrolytes in the blood. Therefore, phosphorus builds up in the blood. Phosphorus and calcium are counteractive. High phosphorus level draw calcium from the bones so that your bones become weak.
Vitamin D can not be activated.
Besides blood filtration, kidney is also responsible for activating vitamin D. Activated vitamin D helps our body absorb calcium. When your kidneys are damaged, there is not enough vitamin D to be formed so that it is likely for you to have calcium deficiency. And then bone fractures occur easily.
Diet restriction
Renal failure patients are usually required to follow a restricted diet to have a better control of their disease. Such a diet may make you not get enough calcium.
Side effects of steroids and immunosuppressants
If you take steroids and immunosuppressants for proteinuria, you have bone fracture as well, because they affect your body to absorb vitamin D and calcium.
In addition, massive protein leakage can take calcium away from your body so that your bones can not get enough calcium to strengthen themselves.
Why do people in chronic renal failure have bone fractures? Bone fractures are very severe, which affects your life a lot and it needs a long term to recover. Therefore, you should receive treatment as early as possible to prevent bone fractures. In China, we often use Traditional Chinese Medicine to treat kidney disease. In TCM, there is Micro-Chinese Medicine Osmotherapy, Medicated Foot Bath, Mai Kang Composition and various Medicinal Soup, etc. They can improve your blood circulation to help your kidneys repair themselves. If you still have any questions about chronic renal failure, please leave your basic information below. Our doctors will contact you later.