Is Vertigo Connected To Kidney Failure
2015-05-16 02:32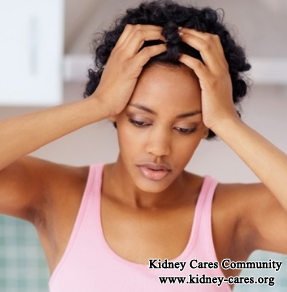 People with kidney failure will experience some discomforts like poor appetite, itchy skin, muscle cramp, joint pain, swelling and sometimes vertigo, etc. Is vertigo connected to kidney failure?
Yes, vertigo is connected to kidney failure. The following factors can lead to vertigo in kidney failure.
1. Many wastes in blood
Healthy kidneys can remove wastes from the blood. However, when kidneys are damaged, they fail to excrete wastes out of the blood as well as before. Under such a condition, wastes will buildup in blood. Nerve system can be easily affected by waste deposition. Patients will have some symptoms including vertigo, headache, difficulty concentration and poor appetite.
2. Anemia
People with kidney failure tend to experience anemia because kidneys play a role in creating healthy red blood cells. When kidneys are functioning properly, they produce a hormone called erythropoietin (EPO) which is responsible for producing red blood cells. When kidneys are damaged, less red blood cells will be produced. This condition is called anemia. Vertigo can be a symptom of anemia.
3. Malnutrition
Many factors in kidney failure can lead to malnutrition like disorders of protein metabolism, disorder of carbohydrate and lipid metabolism, chronic inflammation metabolic acidosis. Vertigo can be related to malnutrition.
In summary, vertigo can be connected to kidney failure. If you want to alleviate vertigo, you should take treatments to repair kidney damage and improve renal function. On the other hand, keeping a healthy diet and developing a good life habit are also important. If you have any question, you can leave a message to kidneycares@hotmail.com or consult our online doctor directly.