What Can I Do To Prevent Daytime Sleepiness With Stage IV Kidney Failure
2015-04-23 07:03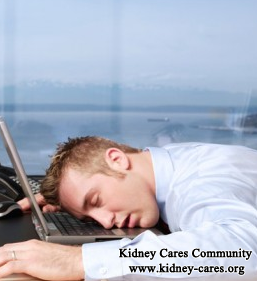 Most kidney failure patients suffer from daytime sleepiness. It often indicates that the person is accumulating dangerous amounts of waste products because the kidneys are not working to excrete them. Well, what can we do to prevent daytime sleepiness with stage 4 kidney failure?
1. What causes daytime sleepiness in people with stage IV kidney failure?
Creatinine
Creatinine is a waste product that is made when your body breaks down protein you eat and when muscles are injured. A high serum creatinine level means kidney damage. With kidney disease, creatinine level usually gets elevated.
Blood Urea Nitrogen (BUN)
BUN is another measure of wastes in your body. Urea is produced from the breakdown of protein already in the body and protein in your diet. A high BUN level usually means that kidney function is less than normal.
As creatinine and BUN rises, symptoms of kidney disease may appear such as a bad taste in the mouth, poor appetite, nausea and vomiting, and sleepiness.
Restless leg syndrome
Restless leg syndrome (RLS) often occurs during the night. It can weaken people and make people have a poor sleep quality at night. Thus, patients may feel fatigue and want to fall asleep during daytime.
Itchy skin
Itchy skin caused by high phosphorus level in blood usually becomes worse at night and it makes people difficult to fall asleep. That is another reason of daytime sleepiness.
2. How to prevent daytime sleepiness in stage IV kidney failure?
From the cause of daytime sleepiness, we can see it is the underlying kidney damage that results in sleepiness at daytime. Therefore, it is right to find the medical treatment which can deal with the kidney function decline. Micro-Chinese Medicine Osmotherapy is able to repair kidney damage and improve renal function. Only in this way sleep problem can be reduced from the root.
In addition, kidney failure patients also need to avoid or limit the following foods: salted foods, potassium foods, protein foods and phosphorus foods.