Why Kidney Failure Patients Have Muscle Cramps
2015-04-14 06:57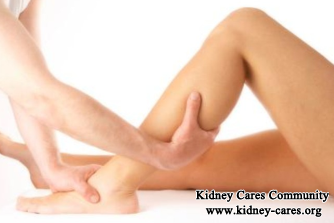 Many kidney failure patients have muscle cramp. Although muscle cramp is only one of the complications of kidney disease, it is more remarkable. In the following, we will introduce you why patients with kidney failure suffer from muscle cramp.
1. Hypocalcemia
Muscle cramp is a common symptom in kidney failure patients. The reason for muscle cramp is complex but the most common reason is abnormal serum calcium. Calcium ion is an electrolyte which has close relationship with nerve muscle excitability. When serum calcium decreases, the excitability of nerve muscle increases and then muscle cramp will occur. Hypocalcemia is often to be seen in kidney failure patients and it is also associated with hyperphosphatemia.
2. Insufficient active vitamin D
Since damaged kidneys cannot generate enough activate vitamin D, the balance of calcium and phosphorus is disturbed. Intestinal tract absorbs less calcium and kidneys discharge less phosphorus. In this condition, serum calcium becomes lower and serum phosphorus becomes higher. Diuretics can be used to increase the excretion of calcium. Also some patients use bicarbonate to correct acidosis, which may induce low calcium seizures. This is because in the acid environment the concentration of free calcium ions will be higher, but once acidosis is corrected, the concentration of free calcium ions will be lower, which will cause muscle cramp.
3. Peripheral neuropathy
Since there are many toxins in uremia, patients may also suffer from peripheral neuropathy. This can be another reason of muscle cramp.
4. metabolic disorder
Due to metabolic disorder, kidney failure patients may experience restless leg syndrome (RLS) and the main symptom is involuntary twitch of the body. This is another reason of muscle cramp.
The above are some causes of muscle cramp. When you know the causes of muscle cramp clearly, the therapeutic effect will be better. If you have any question, you can send email to kidneycares@hotmail.com or consult our online doctor directly. We are always to help you.
Our Treatment Effect
High creatinine level is dangerous to a kidney patient
Move the mouse to enlarge the picture
If you also want to reduce your high creatinine level, please look at this patient's report. When he was just hospitalized in our hospital on Dec 11, 2018,
His creatinine:1028umol/L,
urea: 39.7mmol/L
UA : 513umol/L
After a period of our treatment,
his creatinine:331umol/L, urea:16.1mmol/L
UA :325umol/L on Jan 5, 2019.
His condition was getting better and better. You can also get better.
For a CKD patient, you can choose Chinese medicine treatments to control your condition. your creatinine level can be reduced radically, symptoms can be alleviated and more importantly, your renal function will be improved. In this way, you can stay away from end stage kidney disease and avoid dialysis.