Is Having A High Blood Pressure A Sign Of Kidney Failure
2015-03-08 02:09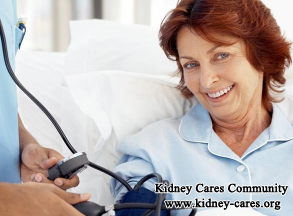 Is high blood pressure a sign of kidney failure? Kidney failure will cause a lot of complications, and one of them is high blood pressure or hypertension. Well, how does kidney failure lead to high blood pressure?
1. Kidney damage and high blood pressure
Healthy kidneys are responsible for producing a hormone to help the body regulate its own blood pressure. However, damaged kidneys fail to regulate blood pressure. That is, kidney damage and high blood pressure are associated with each other. Kidney disease will cause high blood pressure, while high blood pressure can also cause kidney disease. What is more, hypertension is the second leading cause of kidney failure.
2. How does high blood pressure cause kidney failure?
Kidneys are supplied with dense blood vessels, and high volumes of blood flow through them. Over time, uncontrolled hypertension can cause arteries around the kidneys to narrow, weaken or harden. These damaged arteries cannot provide enough blood to the kidney tissue.
As we mentioned above, kidney damage and uncontrolled high blood pressure each contribute to a negative spiral. When more arteries become blocked and stop working, the kidneys will eventually fail. This process can happen over several years, but it can be prevented.
3. What is the treatment for high blood pressure in kidney failure?
Medications
Medications that lower blood pressure can also significantly slow the progression of kidney disease. The medications include angiotensin-converting enzyme (ACE) inhibitors and angiotensin receptor blockers (ARBs) which have been shown effective in slowing the progression of kidney disease.
Diet
A healthy diet can help lower blood pressure. High blood pressure diet should focus on fruits, vegetables, whole grains, and other foods that are low in sodium heart healthy.
Chinese herbs
The key point for hypertension should repair injured kidneys and improve renal function. Nowadays, western medicines cannot achieve this goal while Chinese herbs can restore damaged kidney nephrons and enhance renal function. This is a radical way for lowering high blood pressure and stopping the progression of kidney disease.
Our Treatment Effect
High creatinine level is dangerous to a kidney patient
Move the mouse to enlarge the picture
If you also want to reduce your high creatinine level, please look at this patient's report. When he was just hospitalized in our hospital on Dec 11, 2018,
His creatinine:1028umol/L,
urea: 39.7mmol/L
UA : 513umol/L
After a period of our treatment,
his creatinine:331umol/L, urea:16.1mmol/L
UA :325umol/L on Jan 5, 2019.
His condition was getting better and better. You can also get better.
For a CKD patient, you can choose Chinese medicine treatments to control your condition. your creatinine level can be reduced radically, symptoms can be alleviated and more importantly, your renal function will be improved. In this way, you can stay away from end stage kidney disease and avoid dialysis.