Why Chronic Kidney Failure Patients Have High Potassium
2015-03-01 07:50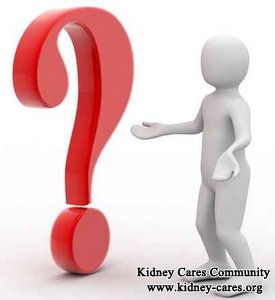 When you discover that you have chronic kidney failure, learning about nutrition and diet is very important. One of the minerals to learn about is potassium and how it is affected by kidney disease.
1. Why does high potassium level occur in kidney failure?
With kidney failure, the kidneys are not effective at removing excess potassium from the blood. Also some medications may lead to excess potassium retention, rather than it being removed in the urine, so kidney failure patients will experience high potassium, also called hyperkalemia. A high potassium can cause nausea, weakness, numbness or tingling, slow pulse, irregular heartbeat, and heart failure. It is dangerous and should be treated timely.
2. What level of potassium is called a high potassium level?
The normal potassium range is 3.5-5.0mEq/L. Elevated potassium range is 5.1-6.0mEq/L and dangerous potassium amount is more than 6.0mEq/L.
3. How to prevent potassium levels from getting too high?
Limit foods that are high in potassium
High potassium foods include avocados, bananas, dried fruit, honeydew melon, kiwi, mango, oranges and orange juice, papaya and prune juice, ice cream, milk and yogurt as well as other dairy products, dried beans and peas, pumpkin, potatoes and French fries, sweet potatoes, winter squash.
Chinese herbs
We have innovated many therapies on the basis of Chinese herbs like Micro-Chinese medicine Osmotherapy, Medicated Bath, Foot Bath Therapy, Circle Therapy and Mai Kang Mixture, etc. These therapies can dilate blood vessels and improve blood circulation. In this way, excess potassium can be discharged out of the body via blood circulation. Besides, the active ingredients can come to the damaged kidneys directly and improve renal function effectively. Thus, high potassium level can be lowered from the root. Other symptoms can also be alleviated. If you want to learn more information about our therapy, you can leave a message to kidneycares@hotmail.com or consult our online doctor directly. We will reply you as soon as possible.