What Kidney Failure Patients Take For The Unbearable Itching Body
2015-02-15 01:43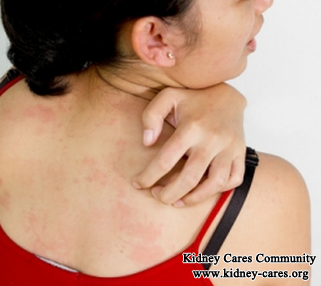 Itchy skin is a common symptom of kidney failure patients and it can cause poor sleep. Can someone tell me what they take for the unbearable itching all over my body?
1. Causes of itchy skin in kidney failure patients
One of the kidney functions is to keep balance of phosphorous and remove toxins and wastes from the body. While, in kidney failure, damaged kidneys can not balance phosphorus and discharge toxic and waste substances from the body. In this condition, patients are more likely to suffer from high phosphorus levels in blood and wastes accumulation in body. Thus, itchy skin happens.
2. How to treat unbearable itching body?
Phoslo pills
Tell your doctor to check your phosphorus level and if it is high, talk to him about phoslo pills to lower your phosphorus levels plus eat lower amounts of phosphorus. You will take the phoslo pills 15 minutes before meals.
Hot showers
Hot showers followed by the application of Cera ve Moisturizing Cream to the itching areas. The good news is that this is our body's way of getting rid of some of the toxins. Getting in a hot sauna also helps pull the toxins out of the body, as does exercise. Also drink lots of water.
Chinese medicines to improve kidney function
Only when kidney function is improved can itchy skin be treated from the root. Traditional Chinese Medicine (TCM) resolves the current problems and eliminates the root causes. Through strengthening the body, activate blood circulation, dredge meridian, dispel stasis, remove renal toxins and benefit the kidney to repair damaged kidney and improve renal function. In this way, kidneys can lower high phosphorus level. Thus, itchy skin can be alleviated naturally and effectively.