Can Kidney Failure Cause Muscle Fatigue
2015-02-02 03:42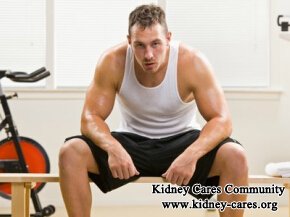 Muscle fatigue or muscle weakness is a common complication of kidney failure patients. It is a sense of weariness or exhaustion that you feel when using the muscle. Can kidney failure cause muscle fatigue? Yes, it can.
How does kidney failure cause muscle fatigue?
-The poorly functioning kidneys can not expel poisonous substance from the blood. As a result, they build up in the blood. The accumulated toxins may affect the normal function of muscles, leading to muscle tiredness.
-The damaged kidneys can not balance electrolytes in the blood. And they also affect the absorption to calcium and vitamin D. This can also lead to muscle weakness.
-The impaired kidneys can also not secrete enough erythropoietin to make red blood cells so that it reduces the ability of the blood to carry oxygen to muscles, thus muscles tire more easily.
-Diabetes is a common cause of kidney failure. As diabetes progresses, the blood supply to small nerves is lost. When the nerve serving a muscle fiber dies then the muscle fiber will also stop working so that your muscles get tired easily.
-Heart failure is a common complication of kidney failure. It can cause easy tiring of the muscles through a reduction in blood supply at times of high demand.
In addition, medicines, such as statins, antibiotics, painkillers, steroids and so on can also cause muscle weakness.
How to boost your energy and improve muscle fatigue?
If you have muscle weakness, you should visit your doctor, who can help you find out what on earth is the cause of your muscle fatigue and what treatment you should receive now to improve muscle fatigue.
Besides, you should have a better control of your kidney failure and choose some natural treatment to avoid dialysis and transplant. Micro-Chinese Medicine Osmotherapy, Medicated Bath, Mai Kang Composition and decoction can help cleanse the blood, remove stasis, and speed up blood circulation to improve blood circulation so as to help the active ingredients of medicines you take to get to the nidus. When your kidney function improves, some body malaise disappears.
Can kidney failure cause muscle fatigue? Yes. For more information, please leave a message below or send emails to kidneycares@hotmail.com.
Our Treatment Effect
High creatinine level is dangerous to a kidney patient
Move the mouse to enlarge the picture
If you also want to reduce your high creatinine level, please look at this patient's report. When he was just hospitalized in our hospital on Dec 11, 2018,
His creatinine:1028umol/L,
urea: 39.7mmol/L
UA : 513umol/L
After a period of our treatment,
his creatinine:331umol/L, urea:16.1mmol/L
UA :325umol/L on Jan 5, 2019.
His condition was getting better and better. You can also get better.
For a CKD patient, you can choose Chinese medicine treatments to control your condition. your creatinine level can be reduced radically, symptoms can be alleviated and more importantly, your renal function will be improved. In this way, you can stay away from end stage kidney disease and avoid dialysis.