Can A Person On Dialysis Eat Popcorn
2015-01-18 11:07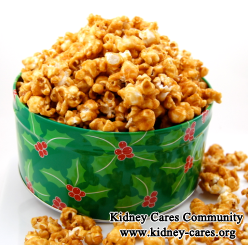 When a kidney disease is on dialysis, it is vital for him or her to control the amount of protein, sodium, fluid, potassium, phosphorus and calories that they can eat or drink. But can a person on dialysis eat popcorn? Follow us to find the answer.
Dietary fiber is a major benefit of whole grains. An adequate fiber intake not only helps you to stay regular but may also lower your risk of cardiovascular disease, reduce blood cholesterol and lower your risk of type 2 diabetes by regulating blood sugar.
Do not add a lot of salt or butter on popcorn. Eating too much popcorn with added salt is to add too much sodium to your diet. The excess salt can lead to fluid retention and increased blood pressure, which can, in turn, worsen the condition. In addition, popcorn with additional buttery sauce, is likely to increase the levels of cholesterol in the blood, which poses a greater risk of clogging the arteries with cholesterol and of developing atherosclerosis or other heart disease.
In addition, dialysis patients often experience gastrointestinal problems. If you have a gastrointestinal condition that requires you to follow a low fiber or low residue diet, consult with your physician before eating popcorn because the grain can irritate your gastrointestinal tract.
Often considered to be junk food, popcorn can actually be part of a healthy diet if you eat it correctly. Therefore, you should consult your doctor or consult our online doctor and they will tell you whether you can eat popcorn and how much you can eat according to your own specific condition.