Will Kidney Failure Cause Vision Loss
2015-01-10 02:27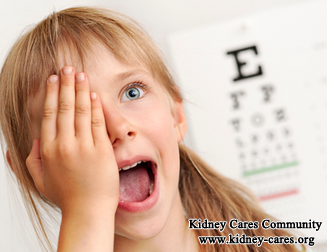 Can vision loss be caused by kidney failure? People with renal failure will experience many clinical symptoms and vision loss is one of them. Well, how does kidney failure trigger vision loss?
We know diabetes and high blood pressure are the leading cause of kidney disease and they are also the leading causes of eye disease and vision loss. If your kidney disease is a result of either condition, you may be at risk for vision loss. Kidney failure patients may experience three types of eye problems: retinopathy, cataracts and glaucoma.
Retinopathy
Retinopathy is a condition where the small blood vessels in the eyes become damaged as a result of hypertension or diabetes.
Diabetes can increase the blood glucose levels in the bloodstream which can damage the tiny blood vessels in the kidneys, fingers feet and eyes. High blood pressure can put a burden on the walls of the blood vessels, weakening them to the point where they can break or b burst. Like kidney disease, both types of retinopathy can occur over time and symptoms are often not felt until the damage is done.
Cataracts
Cataracts develop as we age. But patients with diabetes are at a higher risk for cataracts
Glaucoma
When too much pressure builds up in the eye, the optic nerve can become damaged. This damage could lead to partial or total vision loss. High blood pressure and diabetes are possible risk factors for glaucoma.
Hypertension or diabetes is important not only for the health of the kidneys, but also the health of the eyes. Therefore, you should manage these conditions. Besides, smoking is an added risk factor for eye problems. So if you smoke, you should quit it.
Our Treatment Effect
High creatinine level is dangerous to a kidney patient
Move the mouse to enlarge the picture
If you also want to reduce your high creatinine level, please look at this patient's report. When he was just hospitalized in our hospital on Dec 11, 2018,
His creatinine:1028umol/L,
urea: 39.7mmol/L
UA : 513umol/L
After a period of our treatment,
his creatinine:331umol/L, urea:16.1mmol/L
UA :325umol/L on Jan 5, 2019.
His condition was getting better and better. You can also get better.
For a CKD patient, you can choose Chinese medicine treatments to control your condition. your creatinine level can be reduced radically, symptoms can be alleviated and more importantly, your renal function will be improved. In this way, you can stay away from end stage kidney disease and avoid dialysis.