Can High Potassium Levels In Kidney Failure Cause Nausea
2014-12-09 08:20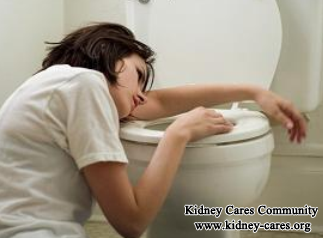 Is nausea a symptom of high potassium level in kidney failure? Yes, it is elevated creatinine level can lead to nausea for kidney failure patients. How does high potassium level cause nausea? Is there any remedy to alleviate nausea?
How does elevated potassium level cause nausea?
Potassium is an important mineral that controls nerve and muscle function. The heart beats at a normal rhythm because of potassium. Potassium can also maintain liquid and electrolyte balance and pH levels. The normal range of potassium is between 3.5 and 5.5 mEq/L. The kidneys help keep potassium at a normal level. However, in kidney failure, kidneys fail to remove excess potassium, so the level builds up in the body. High potassium level in the body is called hyperkalemia. Some of the effects of elevated potassium are nausea, weakness, numbness and slow pulse.
Is there any remedy to alleviate nausea?
For people with renal failure, dialysis is necessary to help regulate potassium. However, between dialysis treatment, potassium levels rise and high potassium foods should be limited. Foods high in potassium include avocados, bananas, dried fruits, kiwi, mangos, oranges and orange juice, papaya, prune juice, pumpkin and potatoes and French fries, etc. Avoid salt substitutes and other seasoning with potassium.
More importantly, repairing injured kidneys and improving kidney function is the radical way to regulate potassium level by Chinese herbal treatment. In our hospital, we have Micro-Chinese Medicine Osmotherapy, Medicated Bath, Foot Bath, enema therapy, circle therapy and so on. They can dilate blood vessels and improve blood circulation so as to remove excess potassium. In this way, high potassium level can be lowered and nausea can be alleviated effectively.
If you have any question about kidney disease, you can leave us a message to kidneycares@hotmail.com or consult our online doctor directly.