Fingernail Changes In Early Kidney Failure
2014-11-24 02:52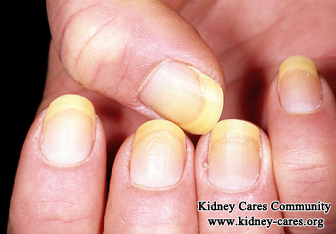 Nail changes can be a sign of kidney failure. What causes your finger nail changes when you experience kidney failure? Like your skin, nails also become obviously abnormal when you develop renal failure. Follow us to find the answer.
Fingernails can be affected by kidney disease. Nail changes patients may experience include abnormal: color, shape, texture and thickness.
Why nails change for people with kidney failure?
Diseased kidneys cannot discharge nitrogen waste products from your body. As a result, nitrogen waste products build up in people with renal failure, which can lead to fingernail changes. Fingernail changes include yellow or opaque coloring, brittle nails, pitted nails, linear depressions across the fingernail, raised ridges, thin and concave shaped, white streaks spots on the nails.
In addition, nail changes can also be caused by malnutrition, vitamin deficiencies and the side effects of certain medications.
Malnutrition
Nails are made up of protein. For some people with kidney failure, food can taste different. People usually have a loss of appetite. In this condition, your dietary protein such as meat, poultry, fish and eggs may not be enough for your kidney diet. A good kidney diet contains a good amount of protein and other nutrients that are necessary to help keep your nails healthy.
Vitamin deficiency
Kidney failure patients are at a high risk of deficiencies in zinc, calcium and B vitamin. To treat and prevent these deficiencies, patients are prescribed a renal vitamin which is high levels of B vitamins.
Certain medications
Certain medicine you are taking is sometimes causing your bodily changes. However, you should not stop taking medicine without your doctor's permission. Medicines will be added or changes if results show there is a link between the medications and your nail changes.
Kidney failure can cause fingernail changes. To treat it from the root, we recommend Chinese medicine treatment. It can repair injured kidneys and improve renal function. Only in this way can nitrogen waste products be removed out of the body effectively and completely. Thus, nail changes can also be relieved naturally.