Why Do Kidney Failure Patients Have Bone Fracture
2014-11-17 02:48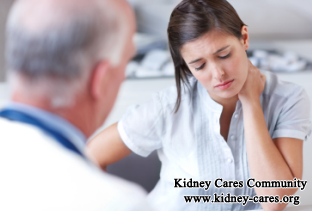 Bone disease is a common symptom in patients with chronic kidney failure to have problems with their bones. Their bones tend to become thin and weak, which causes them to break easily or to begin to hurt. This is because calcium is lost from the bones. This article will introduce the reasons in details.
Kidney failure causes bone disease in the following ways:
1. A change occurs in the balance between too important minerals in your body-calcium and phosphorus-leading to loss of calcium from your bones.
2. Four small glands, parathyroid glands, which is responsible for regulating calcium in your body, become too active.
3. Not enough vitamin D is changed to an active form that can be used by the body.
What treatments are available for bone diseases?
Your treatment may include one or more of the following:
1. Reducing phosphorus in your diet
By reducing phosphorus in your diet, you can help prevent the amount of phosphorus in your blood from becoming too high. Foods high in phosphorus include dairy products such as milk and cheese, dried beans and peas, nuts and peanut butter, and beverages such as cocoa, colas and beer. Using non-dairy creamers and recommended milk substitutes is a good way to reduce the amount of phosphorus you eat.
2. Take phosphate binder
3. Taking a medicine with a form of vitamin D
4. Taking calcium supplements
5. Changes in your dialysis treatment
6. An exercise program recommended by your doctor
7. An operation to remove some of the parathyroid glands
The above ways help alleviate bone disease to some extent, but they cannot treat bone problems from the root. To relieve bone disease radically, you need to repair your damaged kidneys and improve your renal function. We use Micro-Chinese Medicine Osmotherapy to restore injured kidneys and enhance kidney function by dilating blood vessels, preventing inflammation and coagulation, degrading extracellular matrix and providing necessary nutrients. Bone disease and other complications of kidney failure can all be alleviated naturally and effectively.