Why We Become Tired Easily with Kidney Failure
2014-11-12 01:54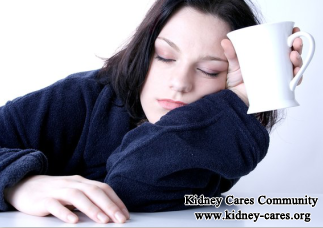 Kidney failure can cause many physical discomforts like nausea, skin itching, dizziness, poor memory and frequent urination due to buildup of toxins in blood. Also, you may find you become tired easily after developing kidney failure. Why is this? Is tiredness a sign of kidney failure?
Kidney failure is the illness regarding kidney, but it indeed makes patients feel less energy. There are different causes for tiredness in kidney failure, but in general patients suffer from this problem due to:
1. Renal anemia
Renal anemia is a common cause for tiredness in kidney failure. Anemia is diagnosed when there is lack of enough healthy red blood cells in blood. Red blood cells contain hemoglobin and it is the hemoglobin which permits them to transport oxygen. We become tired easily due to insufficient oxygen in our body. Besides, in such a case, tiredness is always accompanied with pale complexion, shortness of breath and sweating.
2. Poor life quality
Kidney failure can cause many terrible symptoms like skin itching and vomiting, which can affect their life quality and sleep problem. With poor life quality like bad red test, we become tired easily.
3. Side effect of some medicines
Kidney failure can cause many complications which need to be brought under control. For this reason, kidney failure patients always need to take lots of medicines. Tiredness may present as a side effect of these medicines.
4. Lack of exercise
With kidney failure, we do physical exercise less and lacking physical exercise also contributes to tiredness.
All in all, kidney failure patients become tired easily because of failed kidney, so only when kidney problem is solved, can this symptom be alleviated fundamentally and permanently. So far there is no cure for Chronic Kidney Failure, but with Micro-Chinese Medicine Osmotherapy, weak kidneys can be strengthened greatly, which can eliminate some symptoms and allow patients live better and longer. More importantly, this herbal treatment is harmless, so please do not worry about any side effects.