How to Get Rid of Ammonia Taste in Your Mouth due to Kidney Failure
2014-10-23 11:47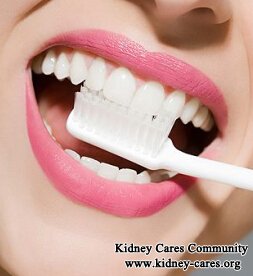 Kidney failure patients often complain about ammonia taste in their mouth. With the deterioration of kidney disease, ammonia will become worse and worse, which may be embarrassing. How to get rid of ammonia taste in your mouth due to kidney failure?
What causes ammonia taste in your mouth due to kidney failure?
Ammonia taste is associated with urea in the blood. Urea is a metabolic waste of protein. Because the damaged kidneys lose their ability to remove waste, they build up in the blood. Urease in intestinal tract can break urea into ammonia so as to stimulate the gastrointestinal mucous membrane. This can make your smell bad.
How to get rid of ammonia taste in your mouth due to kidney failure?
-The direct way is to care the oral hygiene, for example, to brush and floss your teeth, to chew gum, etc.
-The fundamental way is to reduce the production of urea and increase the output of urea.
First, you should control the intake of protein, especially plant protein, because it contains more non-essential amino acid, while high quality protein is preferred, for they contain essential more amino acids,which can be absorbed by body. Limited protein intake is also good for reducing protein leakage.
Second, you should supply enough calory to maintain the normal function of body and reduce the consumption of protein in the body. Carbohydrates are a good source of calory. Cereal, sweet potatoes, carrots, rice and so on are good choices.
Third, you should repair the damaged kidneys and improve kidney function. Micro-Chinese Medicine Osmotherapy, Foot Bath, Mai Kang and decoction are often used to treat kidney failure. They can improve blood circulation by opening up blood vessels, speeding up blood circulation, removing stasis and purifying blood. They can also relieve kidney inflammation by cleansing immune complexes. Moreover, they can stop kidney fibrosis. After a period of treatment, the damaged kidneys restore their function. And then ammonia taste becomes lightened.
Ammonia taste in mouth is only one of the symptoms due to kidney failure. You should take treatment as early as possible to control these symptoms so as to avoid dialysis and kidney transplant.