How to Stop Vomiting with Kidney Failure
2014-09-29 08:52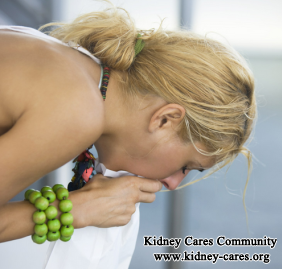 How to stop vomiting with kidney failure? Vomiting is one of the gastrointestinal discomforts of kidney failure and it is especially common in morning. Vomiting not only affects patient's life quality, but also stop patient from getting necessary nutrient from daily food, which is very bad for their recovery. So, stopping vomiting problem is very important for kidney failure patients.
Causes of vomiting in kidney failure
Actually there is no direct relationship between gastrointestinal tract and kidney failure, however, as kidney works as a filter and when it fails to work as well as it should, toxins that should be removed by kidney will build up in the blood, which can cause gastrointestinal discomforts.
Urea nitrogen is one of the wastes that need to be cleared away from our body by kidney. However, when kidney failure is caused, urea nitrogen will build up in the blood, leading to high blood urea nitrogen (BUN). These toxins may stimulate gastrointestinal tract and thus cause vomiting problem. Besides, intestines and stomach ulcer appears easily when there are high levels of toxins in the blood, which also contribute to the occurrence of vomiting.
How to stop vomiting with kidney failure?
Since severe vomiting problem in kidney failure is associated with high blood urea nitrogen, so controlling BUN level is helpful.
Urea nitrogen is the end product of protein, the basic of life, so to have a tight control of BUN and obvious alleviation of vomiting, reduce protein intake is needed. This is only suitable for patients who have not started dialysis for these who have been on dialysis, they need to ingest much more protein everyday to replenish the one lost during dialysis.
We usually urinate less at night, so do kidney failure patients. Urea nitrogen in the blood is removed out of the body through urine, so in the morning, the concentration of urea nitrogen in blood is especially high. At that time, drinking much more water helps to alleviate vomiting condition.
In normal condition, new urea nitrogen is produced consistently, but under such a condition, we still live normally without experiencing any discomforts and that is because kidneys can help us remove excess urea nitrogen in blood. In kidney failure, failed kidneys can not do this job any more, leading to the elevation of BUN level. In such a case, only when kidney function is improved, can vomiting problem be solved fundamentally and permanently.
There is no alternative treatment besides dialysis and kidney transplant for people with completely failed kidney, but for those who still have some healthy kidney function, there is chance for them to improve kidney function and lower down BUN naturally. When BUN level is reduced successfully, vomiting problem disappear. (As for the detailed information about treatment that can help kidney failure patients improve kidney function and naturally lower down BUN level, please consult our online doctor for help.)