Can Kidney Failure Cause Weakness in Limbs
2014-09-19 03:42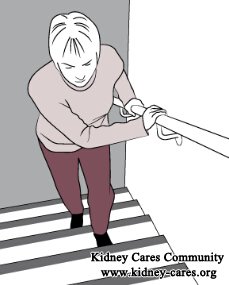 When kidneys fail to work, a lot of symptoms will appear, such as edema, proteinuria and hematuria. Can kidney failure cause weakness in limbs? Yes. Many patients with kidney failure do not only feel weakness in limbs, but also the whole body.
Why kidney failure causes weakness in limbs?
-Anemia
Kidney has many functions, one of which is to secrete erythropoietin to stimulate bone marrows to form red blood cells. Red blood cells are responsible for transporting oxygen to all the part of body. When kidney function impairs, the muscles in limbs can not get enough oxygen, which can make you feel weakness.
-Malnutrition
Kidney failure patients are often required to have a restricted diet. If you can not get enough calory, you will feel weakness.
-Physical inactivity
Because of discomfort, some kidney patients may lie on bed the whole day. Physical inactivity can make you feel more weakness once you do something.
Besides, kidney failure affects the whole body environment, both through an imbalance of the salts in the body and through a possible effect on calcium and vitamin D levels. The accumulated toxins in the blood can also lead to muscle weakness.
How to boost the energy for kidney failure patients?
You can suit the remedy to the case, for example, treat anemia, enhance nutritional quality, take part in exercises moderately, etc. But the root way is to repair the damaged kidneys and improve kidney function. In Traditional Chinese Medicine therapies, there are Micro-Chinese Medicine Osmotherapy, Medicated Foot Bath, Mai Kang and medicated soup. They can draw out toxins from the blood to reduce their damage to the body. They can also improve blood circulation by dilating blood vessels, lowering cholesterol level and removing stasis. Moreover, they can eliminate the immune complexes from the blood to reduce kidney inflammation and they also degrade extracellular matrix to stop kidney fibrosis. After a period of treatment, your damaged kidneys can gradually regain their ability and then anemia, electrolyte imbalance, and some other symptoms will disappear. In addition, you will have a good appetite and feel energetic.
Weakness in limbs can halt you from enjoying your life fully. Without treatment, you may feel more and more weak. If you have any question, please contact doctor online.