Will Kidney Failure Cause Constant Kidney Pain
2014-08-18 08:29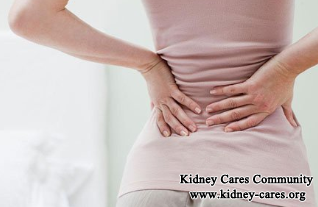 Will kidney failure cause constant kidney pain? Chronic kidney failure is an illness that can involve all the body systems, so people with this illness may experience any kinds of physical discomforts. Well, is constant kidney pain a symptom of chronic kidney failure?
Constant kidney pain can be a sign of chronic kidney failure, but not everyone with kidney problem will definitely face this problem. For people with chronic kidney failure, if they are experiencing constant kidney pain, they need to be careful about the following several problems:
1. Kidney stone
Kidney stone is one of the possible causes for constant kidney pain in chronic kidney failure. Small kidney stones can be passed easily by drinking much more water and doing some physical exercises. But for large kidney stones, surgery or Chinese medicine that can melt or dissolve stones is usually needed.
2. Kidney infection
Kidney infection occurs easily in chronic kidney failure and it can be a cause of constant kidney pain. Drinking much more water helps to flush bacterium out of the body and kidney. But if kidney infection becomes very serious, antibiotics need to be applied, because severe kidney infection may lead to quick deterioration of illness condition.
3. Cyst in kidney
In some cases, chronic kidney failure is caused by PKD (Polycystic Kidney Disease) which is a genetic illness that can cause cysts formation in kidney. In such a case, kidney cyst enlarge over time and enlargement of kidney cysts always case pain feeling in kidney location. Besides, large kidney cyst ruptures easily and rupture of kidney cyst also cause constant kidney pain, but under such a condition, constant kidney pain is always accompanied with blood in urine.
Lastly, constant kidney pain is just a symptom of chronic kidney failure and it may occur in different cases and due to different illness condition. Therefore, finding out the real cause firstly is very important for the effective management.