Why Does She Like To Scratch An Itch For Three Years? Kidney Failure?
2014-08-09 02:46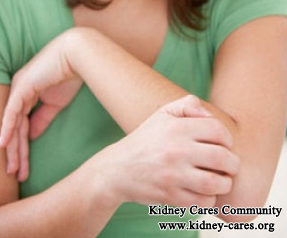 Key points:
Body itch without reason
Scratch an itch after having a bath
She thinks clothes do not be washed clean causing her itch.
Have no other symptoms so do not pay attention to it.
Feel dizziness and then go to hospital to have check ups
Is it kidney failure?
Body itchy without any reason
Three years ago, Ms Liu feels the body bouts of itch, so she bought a tool to scratch herself. And she also does not pay attention to it. She thinks it is time to bathe. However, after bathing, she still feel itchy so she bathes every night.
She went to a clinic and the doctor thought she may be allergic to something, so prescribed some medications to her. After medications, she felt much better. However, one week later itch came back again. Her husband thought it was normal and may be caused by her unclean clothes.
Itchy becomes worsen and she has syncope.
Itch lasts for three years and one month ago itch became worsen, but she still did not care about it. One day she had a sudden syncope. She was taken into hospital and the doctor told her a surprise news: she suffered from kidney failure. This news shocked her. Dialysis was used to alleviate her discomforts. But she had no improvement.
Surprise: kidney failure is caused by scratching itch
Our doctor said that her kidney failure is caused by scratching itch. She cannot believe that and our experts give her detailed explanation: itch is not the direct cause of kidney failure. Itch can cause nephritis while nephritis is not treated timely. In this condition, it develops to kidney failure. Her severe itch is led by kidney failure.
Chronic kidney failure patients have whole body's itch. There are two reasons: one is induced by secondary hyperparathyroidism due to lack of calcium and the other reason is caused by high phosphorus level in blood. Patients should follow a low phosphorus diet.
Is there any cure for kidney failure?
To treat kidney failure, we need to protect residual kidney nephrons, repair damaged kidney tissues and activate the kidney's self-healing ability. This effect can be achieved by Micro-Chinese Medicine Osmotherapy. The active ingredients can come into the damaged kidney lesion directly. Also it can discharge some toxins and wastes from the body and provide some nutrients for injured kidneys. This works to provide a good environment for kidney function improvement.
After two months treatment in our hospital, Ms Liu have no itch any more. After leaving our hospital, she continues to take medications to consolidate her condition.