Does An Atrophic Kidney Cause Pain
2014-07-30 02:44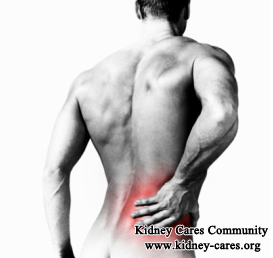 Atrophic kidney means kidneys are small in size which is an abnormal medical condition. Atrophic kidney is commonly caused by chronic kidney failure which can cause many physical discomforts. Well, does an atrophic kidney cause pain? If no, why some atrophic kidney patients complain pain feeling?
Kidney is composed of about one million nephron which is made up of renal corpuscle and renal tubule. Atrophic kidney means kidneys become smaller than normal size and it is always associated with disorder of kidney tissues. Under such a condition, patients may experience many symptoms like foamy urine, decline of urine output, nausea, vomiting, tiredness, skin itching and so on. Pain feeling is not directly associated with atrophic kidney, but patients experience pain feeling in the following kidney conditions:
Kidney infection
Pain feeling may appear in kidney location when there is kidney infection. In mild cases of kidney infection, patients can drink much more water to deal with this problem. By drinking lots of water, bacterium can be flushed out of the kidney and urinary tract. However, if kidney infection becomes more and more serious over time, antibiotics will be helpful.
Kidney stone
Kidney stone is another possible cause for atrophic kidney to experience pain. Having a hot bath is very helpful in alleviating pain feeling in such a condition. Besides, if kidney stones are very large, both surgery and Chinese medicine can be applied to remove stone out of the body.
Atrophic kidney is a very serious kidney condition. And in our daily life, many condition can cause this problem. To get this condition controlled well, patients need to firstly find out the real cause and then choose the right treatment method.