Causes And Management Of Feet Swell with Kidney Failure
2014-07-06 02:05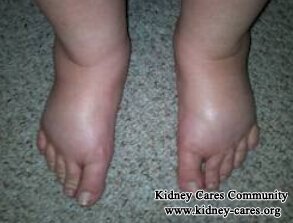 When your kidneys fail to work, you will suffer from various symptoms, such as headache, cramp, fatigue, shortness of breath, etc. Edema is also a common symptom of kidney failure. Do your feet swell with kidney failure? The following information can help you learn more about this topic.
Why your feet swell with kidney failure?
There are two common causes of edema. One is the massive protein leakage. This can lead to the decrease of plasma colloid osmotic pressure so as to cause the fluid in the blood vessels to flow into the issue space. The other reason is kidney function impairment. With the decline of GFR, water and sodium are kept in the body. Under the function of gravity, the fluid in the body flows to the lower limbs, resulting in feet swell.
How to treat feet swell for kidney failure patients?
-If you have severe feet swell, diuretics may be needed to remove the excess fluid from the body. -Have a good rest until the edema disappears.
-Pay attention the intake of protein.
For patients with edema and hypoproteinemia, they should control the intake of protein into 1 g/kg per day. And 60% of protein should be high quality protein, such as lean meat and fish.
For patients with moderate or severe edema, they should restrict the protein intake into 0.5-0.6 g/kg protein and ensure enough calory supplement, about 125.5~146.4kJ/kg(30~35kcal/kg).
-Attach importance to water and sodium intake
If you have mild edema and 1000 ml/d urine output, it is unnecessary for you to restrict water intake, but sodium intake should be in 3 g/d.
If your edema is very severe and urine output is few, water intake should be controlled in 1000 ml and salt-free diet is needed.
Though the above measures can make your edema in remission, they can not repair the damaged kidneys and improve kidney function. Only when your kidney function improves, feet swell and some other symptoms disappear. Micro-Chinese Medicine Osmotherapy is such a therapy.
Feet swell can affect your normal life, so you had better treat it as early as possible. With the help of online doctor, you can get a personalized treatment plan.