Is Difficulty Sleeping Associated with Kidney Failure
2014-07-02 07:57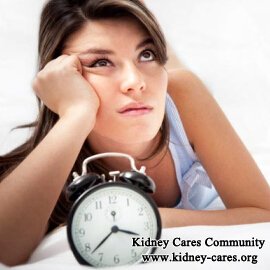 Many kidney failure patients have difficulty sleeping. Is difficulty sleeping associated with kidney failure? The answer is certain. Why kidney failure causes difficulty sleeping? The reasons are various. In the following, you will have a general look at them.
-Toxins
With the decline of kidney function, toxins build up in the blood, which may stimulate your nervous system so as to cause difficulty sleeping. In this case, you should make use of therapies such as Medicated Bath and Enema Therapy to draw out toxins from your body.
-Restless leg syndrome
It is very common among kidney failure patients due to anemia, caffeine and some medications. Restless leg syndrome are generally worse in the evening and at night. For some people, symptoms may cause severe nightly sleep disruption that can impair the quality of life. In this case, you can do some massage and take a hot or cold bath. Some drugs may be used to help you relieve this symptom and sleep.
-Disorder of regular life
Due to anemia, you feel tired easily, which may make you fall asleep earlier than the normal bedtime or nap during the day. Though nap can be refreshing, it can interfere with your ability to sleep at night. So you had better shorten the sleep time in the day.
-Negative emotion
Some kidney failure patients may so worry about their illness that it is difficult for them to sleep. At any time, you should keep a positive emotion. It is said that positive emotion can help you fight against disease.
There are some other factors that can cause difficulty sleeping, such as caffeine, sleep apnea, etc. According to the different causes of difficulty sleep, there are different measures. In the daily, you can do some exercise, such as stretching, walking and jogging, which can help you have a good sleep at night.
If you would like to know more information, please leave a message below or send emails to kidneycares@hotmail.com.