Kidney Failure and Dizziness: Causes and Treatment
2014-06-25 09:00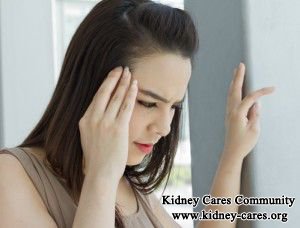 Dizziness is a common complaint of kidney failure patients. What causes dizziness and how to treat dizziness? In the following, you will have a general knowledge.
Causes of dizziness for kidney failure patients
-Because of kidney function impairment, the kidneys can not secrete enough erythropoietin to stimulate the bone marrows to produce red blood cell. As a result, there are not enough red blood cells to transport oxygen to your brain, and then you may suffer from dizziness.
-Dizziness is a symptom of cold and flu. As we all know, kidney failure patients have a poor immune system, which exposes you to various disease, including cold and flu.
-Blood pressure lowering medications may cause dizziness if they lower your blood pressure too much. Many other medications can cause nonspecific feelings of dizziness that resolve when you stop the medication.
-Poor sleeping quality may be another contributor to your dizziness due to restless leg syndrome and negative emotion.
Treatment for dizziness
First you should find what causes dizziness and then suit the remedies to the case. If it is caused by anemia, you should take erythropoietin or iron supplement. If it is cause by high blood pressure, you should take ARBs and ACE inhibitors to lower blood pressure, but the dosage should be attached importance in case of low blood pressure. Besides, you should have a good rest, improve sleeping quality and boost your immune system. But they can not solve the problem from the root.
Dizziness is just one of the symptoms of kidney failure. If you want to live a relatively normal life, you should repair the damaged kidneys and improve kidney function. There are many therapies in our hospital to help you treat kidney disease, such as Micro-Chinese Medicine Osmotherapy, Medicated Bath, Foot Bath, Moxibustion, Blood Pollution Therapy and so on.
Space limited, we do not explain them one by one. If you are interested, please leave your basic your information below so that we can contact you later.