How To Treat Constipation In Renal Failure Patients
2014-05-13 08:52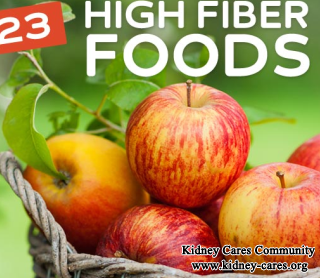 Many kidney failure suffer from constipation, and treating or preventing it can make a big difference to your quality of life. So how to treat or prevent constipation in renal failure patients?
To treat constipation, you should first know the its causes.
The most common cause of constipation is low fiber intake or a diet high in fats. Other causes of constipation include: medications, low fiber diet, fluid restriction and lack of exercise as well as abuse of laxatives. All these factors can cause kidney failure patients suffering from constipation.
How to treat constipation in renal failure?
1. Increase dietary fiber intake
There are soluble and insoluble fiber. Soluble fiber dissolves in water and makes stools sofer and larger. Insoluble fiber does not dissolve in water. It takes in water, and makes stool bulkier to help bowel movements pass more easily.
Adults should take 20-35 grams of fiber daily. However, if dialysis patients have to limit fluid intake, this may be too much which is because high fiber intake may require an increased fluid intake. Also all patients are different so the amount of fiber intake to relieve constipation varies from person to person.
High fiber foods are brown rice, brocolli, peach, turnips, prunes. However, many high fiber foods are high levels of potassium or phosphorus. If you are diagnosed with high potassium and or phosphorus level in blood, you should not eat too much fiber so as not to worsen your medical conditions like cramps and bloating and gas.
A high fiber intake may not solve your constipation problems, but you can increase your daily activity level properly with the allowance of your doctor. Also do not use diuretics for a long time.
The root cause of constipation in renal failure is the damaged kidney. So to repair injured kidneys is the fundamental solution of constipation.
2. Chinese herbal medicine treatment
Due to kidney damage, you will have a limited diet like deficient fiber absorption and less water intake. In this case, constipation can occur. As long as your damaged kidneys are restored to some extent, your life quality can be improved and thus your constipation can be relieved. Our Chinese herbal medicines work for restoring impaired kidneys and improving kidney function with our unique drugs, unique remedies and unique diagnoses. Not only constipation can be eased effectively but also other related symptoms can be treated by a large margin.