Itchy Body, Red Blood Cells In Urine: Is This Kidney Failure Symptom
2014-05-03 06:34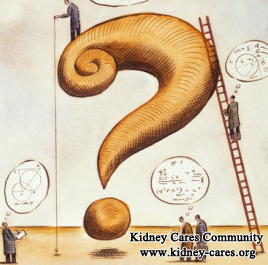 Itching all over body. No other changes noticed. So I would like to know if this can be kidney failure symptom. Recently I notice red blood cells are in my urine when a test was done.
You left a message to our kidneycares@hotmail.com for your health condition. And you said you feel itching all over body. This probably is caused by the build up of phosphates and uremic toxins. Uremia is the build up of nitrogenous waste products in the blood that are typically eliminated via the urine. But because the kidneys are not functioning as well as they could, they are unable to eliminate all of the waste products. In this case, itchy skin can appear.
Kidney disease does cause itchy skin. However, possible causes of itchy skin include:
Dry skin
Skin conditions and rashes, like eczema, psoriasis, lice, chickenpox and hives.
Nerve disorders
Drugs
Irritation and allergic reactions
According to your simple description, we cannot conclude your itchy skin is caused by kidney failure. I need to know more your detailed medical information. For instance, what's your creatinine? Do you have swelling or vomiting? Do you have high blood pressure, diabetes or other infections? For these questions, you can tell our online experts directly or leave your message below.
You also said you noticed red blood cells in your urine, so I suggest you do a urine test and blood test. And when you get your report result, you can send to the above mailbox. Then I can analyze to you and provide some related information for you.
Our hospital is specialized in treating kidney disease and there are many professional experts. We use Micro-Chinese Medicine Osmotherapy to repair patients' renal function and reduce their creatinine. If you truly suffer from kidney failure, we believe our hospital can help you a lot.