Does Chronic Kidney Failure Show Reduced Urine
2014-04-27 07:08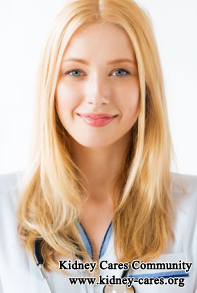 As is known to us, chronic kidney failure can lead to decreased urine, but some patients with chronic kidney failure wonder if all patients with chronic kidney failure experience reduced urine. Here we will give him a specific overview about this, hoping useful for you.
Prior to the point, understand how urine is produced in our body.
Kidney filters the blood, and blood will firstly come through glomeruli, then pass kidney tubules. Finally, the blood go through bladder. In this process, useful substances in blood can be maintained in body, while wastes and fluids can be eliminated from body in the form of urine. In this way, urine is produced. Thus, we can know that urine is composed of wastes and fluids in our body.
Now get to the point.
Chronic kidney failure can make kidney damaged, affecting kidney function. In the long run, kidney function can decrease very largely, so that kidney can't remove many wastes and fluids from body, leading to decreased urine.
Apart from decreased urine, chronic kidney failure can also lead to increased urine, too. Please see the below:
Our kidney tubules can reabsorb 99% of useful substances in blood filtered by kidney. But chronic kidney failure can damage kidney tubules, making the function of reabsorption of kidney tubules lose. In this way, many fluids can't be reabsorbed, leaking out trough urine. In this way, increased urine can be caused.
As a consequent, we can conclude that not all patients with chronic kidney failure have reduced urine, and they may have increased urine, even normal urine when kidney function declines very slightly. Here is our explanation for you. If you have any problem or get more information, just leave us a message or talk with our online doctors freely any time.