How Is Kidney Failure Related to Cardiovascular Problems
2014-02-27 15:54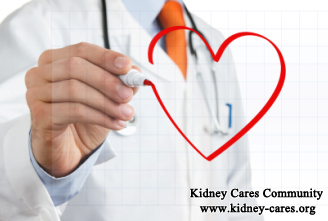 Research indicates that patients with kidney failure are more likely to have cardiovascular problems. And cardiovascular problems do much harm to patients with kidney failure, which can make patients with kidney failure feel difficult breathing, dizzy and tired. What is worse, cardiovascular problems can threaten patients' life and lead to death.Well, how does kidney failure lead to cardiovascular problems.
Before getting to the point, we firstly need to know what cardiovascular problems are.
Cardiovascular problems describe that diseases are related to heart and blood vessels, which have bad effects on cardiovascular systems. There are many causes of cardiovascular problems, such as high blood pressure, abnormal blood cholesterol levels, smoking, diabetes, drinking, etc.
How does kidney failure cause cardiovascular problems?
1. Wastes build up in the blood.
For kidney failure patients, the kidney is impaired and kidney function declines. Thus, wastes and toxins deposit in the blood. Blood vessels are burdened with these wastes and toxins, which makes blood vessels expand, so blood pressure is elevated. High blood pressure is caused in a long time. Besides, high blood pressure affects blood circulation and makes blood flow slowly, leading to myocardial ischemia. Myocardial ischemia is one of the leading causes which lead to cardiovascular problems.
2. Anemia.
Anemia is a very common symptom of kidney failure. As kidney function is affected, red blood cells can leak out through urine. Anemia can make heart bear lots of burdens, leading to arrhythmia.
3. Uremia.
If patients with kidney failure have uremia, large quantities of wastes and toxins in body can cause inflammation of the outer layers of the heart. This inflammation is very bad for heart.
4. Dialysis.
When patients with kidney failure do dialysis, a fistula is needed to come into blood. The combination of fistulas, wastes, high blood pressure and anemia puts extra pressure on cardiovascular system. Besides, in the process of dialysis, irregular heart rhythm can occur when blood is pumped out.
In turn, cardiovascular problems can have bad effects on kidney failure, for example, cardiovascular problems can promote decline of kidney function. Thus, if patients with kidney failure have cardiovascular problems, they should get effective treatment as soon as possible.