Trouble of Sleeping in Kidney Failure
2013-11-12 14:39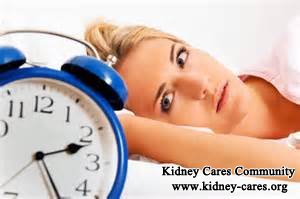 People with kidney failure often have trouble of sleeping. Inadequate sleep can make the patients feel tired and have no energy to do anything.Why do renal patients have trouble of sleeping?The physical and mental health can contribute to the sleep problems in kidney failure.
Restless leg syndrome
Restless leg syndrome refers to a disorder in which the legs feel itchy or tingly,or may jerk or move on their own.This uncomfortable sensation can make them wake up in the middle of night.Moving the legs can relieve the uncomfortable sensation and even make it go away entirely.Restless leg syndrome is mainly due to the following conditions:
-Iron deficiency or anemia
-Caffeine, alcohol, tobacco
-Certain medications
How to control restless leg syndrome in kidney failure? Email to kidneycares@hotmail.com for medical suggestions.
Inadequate Dialysis clearance
If the patients have no adequate dialysis,it will cause high building up of waste products in the blood.The waste products can make you feel ill and uncomfortable,thus resulting in trouble of sleeping in Kidney Failure.To avoid high building up of waste products in body,the patients should never miss dialysis sessions.
Emotions
The patients with kidney failure often suffer from many negative emotions like anxiety,worry and sadness.If you have trouble of sleeping, it may be a sign of clinical depression.You should tell if to your doctor and he can give you some suggestions to relieve the problem.
Besides the above causes of trouble of sleeping in kidney failure, sleep pattern change and caffeine may also contributable factors of the health issue.
To control trouble of sleeping in kidney failure, the first step is to find out the causes.What is the cause in your case and how to manage it? You can consult with our online doctor now!
As the underlying cause of trouble of sleeping in kidney failure is serious kidney damage, the patients should have a treatment to treat kidney as a whole. Micro-Chinese Medicines Osmotherapy is an effective treatment for the patients.