Can Kidney Failure Cause Heartburn And Stomach Bloating
2013-09-21 10:10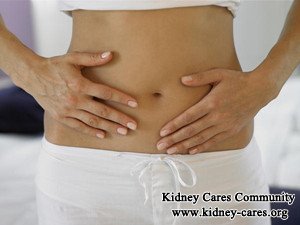 Kidney failure is a systemic disorder which can involve multiple organs and systems in body.Can kidney failure cause heartburn and stomach bloating?
Can kidney failure cause heartburn?
Heartburn is a painful feeling in your chest or throat. It happens when your stomach acid backs up into your esophagus.Over time stomach acid reflux can damage the esophagus.Therefore,it is important to keep heartburn to under control.
Kidney failure us usually not associated with heartburn issue. Unless, several kidney failure and multiple organs failure has cause stress ulcer in the stomach.If the kidneys are impaired significantly, high levels of toxins and wastes will build up in body.If the toxins and wastes enter into digestive tract,it can cause nausea,vomiting and even peptic ulcer. Heartburn may be a sign of peptic ulcer.
Can kidney failure cause stomach bloating?
Stomach bloating can be a sign of kidney failure.One of important kidney functions is to filter out wastes and extra fluid from body.However,the diseased kidneys can not eliminate the extra fluid from body.If the extra pressure forms against stomach, it will cause stomach bloating.
In addition, stomach bloating and heartburn may not be related to kidney failure itself, but due to other stomach diseases like gastritis.Therefore,it is important to find out the cause firstly.
If you have no idea about the causes of your conditions? Chat with our online doctor for more professional advices.
Treatment for heartburn and stomach bloating in kidney failure
Some medications can be used to relieve these conditions.However,as the underlying cause of these conditions are reduced renal function,the patients should have treatment to treat the kidney as a whole. If the kidneys can work better, the heartburn and stomach bloating will be controlled completely and fundamentally.