Pruritus in Chronic Kidney Failure
2013-09-03 11:04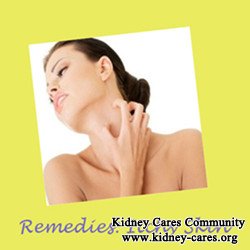 Pruritus also called itching is commonly seen in chronic kidney failure.It is a very annoying complaint and even can reduce the patients' life quality. What are the causes of pruritus and how to relieve it?
High level of phosphorus
High level of phosphorus is the major culprit of pruritus in kidney failure.Phosphorus is an important mineral in body and plays an important function in keeping bone healthy.However,as the kidneys are impaired,high levels of phosphorus will build up in body.As a result, pruritus will occur.
Allergies
Sometimes pruritus in kidney failure may be related to allergies if you are on Dialysis.If the itching is noticed at the beginning of dialysis treatments, you could have an allergy to the blood tubing, dialyzer, heparin or other elements associated with the treatment. If you have no idea if the pruritus in Kidney Failure is related to allergy, you can chat with our online doctor for an answer.
How to relieve pruritus in kidney failure?
Getting sunlight or ultraviolet (UV) light treatments help lessen itching. UV light can change the chemicals on skin,which can help relieve certain skin problems.
If pruritus is related to high levels of phosphorus,lowering the level of phosphorus plays the key role. On one hand, the patients should cut down foods high in phosphorus like dairy products, nuts, etc. Email to kidneycares@hotmail.com to get a list of foods high in phosphorus to avoid.
In the case of pruritus due to allergies, you should firstly find out what is the cause of allergies. Let your doctor or nurses know so changes can be made.
The above are the causes of pruritus in kidney failure and ways to relieve it. However, as itching is due to reduced renal function, the most important thing you can do is to treat your kidneys as a whole. If your kidney damage can be reversed to work more efficiently, pruritus will be controlled completely.