Skin Problems in Kidney Failure
2013-09-03 10:10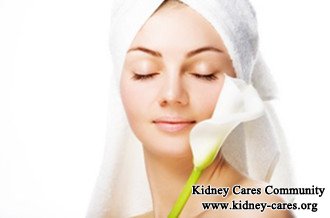 Kidneys are a pair of vital organs in body.They perform a number of functions in body,like eliminating metabolic wastes, producing essential hormones, regulating blood pressure etc. In kidney failure, as the kidneys fail to work properly, a number of complications will appear. Skin problems are very common among people with kidney failure.
Itching (pruritus)
The patients with kidney failure may experience itching at some point.It may make the patients very annoyed and even affect their normal life.The most common reasons for itching is a high level of phosphorus in the body.As the kidneys are damaged, they fail to remove phosphorus from body, thus resulting in high levels of phosphorus in body.
A low-phosphorus plays a vital role in lower levels of phosphorus in body. Besides a balanced diet, it there any other way to control high levels of phosphorus?Email to kidneycares@hotmail.com .
Dry skin
Dry skin is one of common skin problems in Kidney Failure. Kidney failure can make changes in the sweat and glands and oil glands, which cause skin to dry out. To prevent dry skin, the patients should avoid long,hot showers or bathes. Use soaps that have natural, pure ingredients. A moisturizing soap is a good choice for patients with dry skin.
Pale skin
Pale skin is commonly seen among patients with kidney failure.It is mainly related to chronic anemia.Chronic anemia is a common complication of kidney disease.It occurs when the diseased kidneys fail to produce a hormone,EPO which can stimulate the bone marrow to produce red blood cells.
If pale skin is due to anemia, correcting anemia can treat pale skin effectively.Artificial EPO injection,iron and folic acid supplement are recommended treatment for anemia in kidney failure.
Discolored skin
Discolored skin can be seen in some cases of kidney failure.It is due to accumulation of pigments in skin. Normally, these are excreted by healthy kidneys.
Another causes of discolored skin is uremic frost.This is a white, powdery substance left on the skin surface after sweat dries.
If the patients can have adequate Dialysis,these harmful substances will be eliminated out of body.
The above are the common causes of skin problems in kidney failure and ways to deal with them. If you want to get more information about the condition, you can chat with our online doctor now!