Recommended Exercise For Stage Three Kidney Failure
2015-10-18 08:49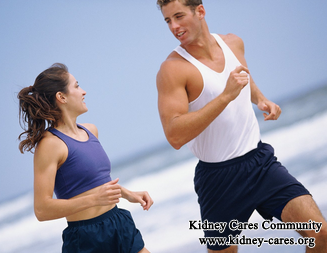 Taking part in vigorous activity is beneficial when you have stage three kidney disease. Proper exercise can help you to feel better physically and mentally. Well what is recommended exercise for stage three kidney failure patients?
1. Aerobic exercise
Aerobic exercise is continuous and incorporates the use large muscle groups that keep the heart rate elevated. This is the best type of exercise to help kidney disease patients including walking, jogging, cycling, dancing, swimming, etc. Aerobic exercise can help lower blood pressure to minimize the risk of kidney failure, increase insulin sensitivity to help prevent type 2 diabetes which is an underlying cause of kidney failure, significantly improves cardiovascular disease conditions. However, it is important to note that aerobic exercises should be done in moderation, otherwise it may overwork your system and organs, leading to serious problems like heart failure.
2. Tai Chi
Tai Chi, as a form of traditional Chinese medicine, is another beneficial exercise for stage three kidney failure patients. It helps alleviate renal bone disease, relieve joint pain, enhance the immunity and increase energy and stamina. It is a natural way to help improve patients' overall health.
3. Yoga
Yoga can relax your body through breathing techniques and stretching. Through meditation, yoga can help improve blood pressure benefiting your overall cardiovascular health.
4. Pilates
Pilates is another recommended exercise for stage three kidney failure patients. It helps to build strength and endurance without vigorous exercise that can compromise a weekended condition if you are suffering from kidney complications.
The above are some common exercises for stage three kidney failure patients. With exercise, it can alleviate some of the symptoms associated with kidney disorders. However, to be safe, before beginning any exercise program, be sure to check with your doctor. Or you can leave us a message below. We will recommend you exercise according to your illness condition.