Do Kidney Failure Patients Be Allowed To Take Exercises
2015-02-06 02:15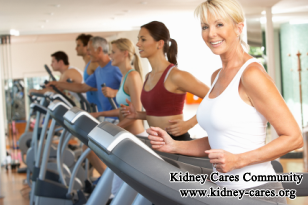 you are diagnosed with chronic kidney failure, you may worry exercise may put strain on kidneys so you may stop all exercises. In fact, exercise is so important for improving kidney function. Here will tell you the importance of taking proper exercise.
Exercise has so many benefits for human body:
1. reduce the risk of diabetes and improves blood sugar
2. lower blood pressure
3. improve circulation
4. reduce fluid retention
5. increase endurance and stamina
6. strengthen bones and increase bone mass
7. reduce stress
8. boost immune system
9. reduce bad cholesterol
10. increase good cholesterol
You may be not bottle that many benefits-especially when most of the benefits help your kidney function directly. For example, improved blood sugar eliminates the number one cause of kidney disease; lowering blood pressure eliminates the number two most common cause of declined kidney function; stress reduction takes the stress off the kidneys; weight loss reduces the body's blood volume and therefore the kidneys do not need to filter so much blood; improved circulation nourishes the kidneys; blood fat reduction decreases a major complication in renal failure.
However, when you do exercise, you should also pay attention to the following tips:
1. avoid 45 mins of continual strenuous exercise
Where you are huffing and puffing, and find it difficult to take. This will prevent unwanted creatinine levels to be produced in high quantities.
2. exercise 4 times a week
you are lightly huffing and puffing, but can talk without difficulty.
Moreover, you can also try some TCM (Traditional Chinese Medicine) methods such as qigong, yoga and taichi. They are all good for kidney function. I am sure you will find that these work best when put in to practice, so please do not just read them, put them into practice right now.
Our Treatment Effect
High creatinine level is dangerous to a kidney patient
Move the mouse to enlarge the picture
If you also want to reduce your high creatinine level, please look at this patient's report. When he was just hospitalized in our hospital on Dec 11, 2018,
His creatinine:1028umol/L,
urea: 39.7mmol/L
UA : 513umol/L
After a period of our treatment,
his creatinine:331umol/L, urea:16.1mmol/L
UA :325umol/L on Jan 5, 2019.
His condition was getting better and better. You can also get better.
For a CKD patient, you can choose Chinese medicine treatments to control your condition. your creatinine level can be reduced radically, symptoms can be alleviated and more importantly, your renal function will be improved. In this way, you can stay away from end stage kidney disease and avoid dialysis.