How Long Can Kidney Failure Be Cured
2014-12-30 15:56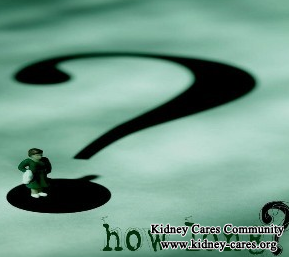 How long can kidney failure be cured? This has close relation with the severity of kidney damage and kidney disease stages. Renal experts point out that how many residual kidney nephrons be saved depends on the speed of kidney deterioration and the intervals of kidney dialysis.
Kidney failure can be divided into four stages according to the severity of kidney damage:
1. kidney compensatory period
Glomerular filtration rate (GFR) in healthy people is about 120ml/min. However, in kidney compensatory period, GFR decreases to 30-60ml/min and kidney nephrons have decreased by 20%-25%. At that time, renal reserved capacity has lost but kidneys can still expel metabolic wastes, balance fluid, electrolytes and acid-based. Therefore, there are no special symptoms in clinical. Serum creatinine or blood urea nitrogen are normal or slightly elevated.
2. azotemia
GFR in this stage decreases to 25ml/mion and renal nephrons decrease by 50%-70%. There is a disorder of concentration function of kidneys. Patients will experience frequent urination at night, anemia, azotemia, elevated serum creatinine and urea nitrogen. In clinical, fatigue, poor appetite, vomiting and other discomforts occur. At this time, if no treatment is taken to protect kidney function, kidney function will decline quickly and kidneys will fail completely.
3. renal failure stage
GFR is only 10-15ml/min and kidney function decreases by 70%-90%. Kidney function has been damaged badly and cannot keep balance of fluid and electrolytes. Internal environment in human body cannot be maintained. Under this circumstance, serum creatinine and urea nitrogen will arise obviously. Other symptoms like acidosis, water retention, low calcium, high phosphorus and high potassium can all occur. Anemia and gastrointestinal symptoms can also happen like vomiting, nausea, poor appetite, nerves problems including fatigue, difficult in concentration.
4. uremia stage
Uremia stage is the last stage of chronic kidney failure. GFR becomes below 10-15ml/min and kidney function decreased by 90%. Clinical symptoms are obvious like gastrointestinal discomforts, nerves symptoms, heart disease, respiratory disease, skin problems and metabolic problems. At this time, people need to undergo dialysis to sustain their life. Unfortunately, people usually die of hyperkalemia, encephaledema, pulmonary edema and heart failure.
Therefore, since kidney injury is serious, it takes a long time to restore kidneys. The treatment for kidney failure should be as early as possible.