Is Kidney Failure A Terminal Illness
2014-10-14 08:55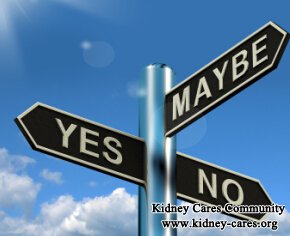 Kidney plays an important role in keeping the normal function of body. Because of physical illness, improper diet, mental stress, irregular sleeping patterns and so on, more and more people get kidney disease. Is kidney failure a terminal illness? Many patients concern about such a question. Go on reading and then you can find the answer.
Kidney failure is not an instant death sentence.
In the early stage of kidney failure, there are seldom symptoms or signs so that people can not detect that they have kidney failure. When there are a lot of symptoms, the disease has developed to advanced stage. Though your kidneys can not function normally, you can still live very well with appropriate treatment. There are medicines to help you ease the symptoms caused by kidney failure. For example, ACEI and ARB to lower blood pressure, steroids to reduce protein leakage, diuretics to alleviate edema. Even if you have ESRD, dialysis and kidney transplant can prolong your life. With timely and effective treatment, kidney disease usually develops slowly and you may live a full life.
What affects your prognosis?
Cardiovascular disease is the main cause of death for kidney failure patients. Statistics show that more than 45%-60% kidney failure patients die of cardiovascular disease.
Many factors can increase your risk of cardiovascular disease, such as high blood pressure, high cholesterol level, severe edema, hyperlipemia, toxicant, anemia, etc. Therefore, once you have these symptoms, you should receive treatment as early as possible to reduce the risk. Besides, you can repair the damaged kidneys to live a long life by some TCM therapies, such as Micro-Chinese Medicine Osmotherapy, Medicated Foot Bath, Mai Kang and decoction.
It is important to remember that regardless of what type of kidney failure you have, if left untreated it will most certainly lead to death. Early treatment can protect your kidneys from being damaged and help you live a normal life. For more information, please contact online doctor or leave a message below.