What Happens When Kidneys Start Shutting Down
2014-07-05 03:37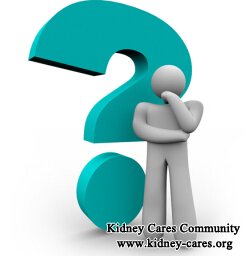 Kidney is an important organ in our body, which has many functions. What happens when kidneys start shutting down?
When kidneys start shutting down, many symptoms appear which can affect your life quality. And there are also other changes in you, such as emotion, diet, exercises, etc.
When kidney start shutting down, your emotion may have a change.
At the very beginning when you are diagnosed with kidney disease, you may feel shocked and upset. But with the time going, you may gradually accept the truth and learn to how to live healthily.
To keep a positive emotion is good for boosting immune system and helping you fight against kidney disease. That is why optimistic patients have a longer life expectancy than pessimistic patients.
When kidneys start shutting down, your diet may need to have a change.
Because kidneys are responsible for filtering metabolic waste from the body. Improper diet can produce a lot of metabolic waste so as to increase the workload of kidneys. Therefore, for kidney failure patients, they can not enjoy whatever they like.
The general diet guideline for kidney patients is to follow a low protein, low sodium, low fat, high vitamins and high fiber diet.
When kidneys start shutting down, you should pay attention to the exercise.
Doing exercise is good for health, but you had better avoid the strenuous activity, such as football and basketball, because they can worsen your proteinuria, hematuria, creatinine level and so on.
Doing some gentle exercise is OK, such as walking, jogging, yoga, tai chi, etc. They can boost your immune system, improve sleeping quality and appetite, etc.
When kidneys start shutting down, you will have many symptoms.
Different kidney patients may have different symptoms. The symptoms common to see include edema, foamy urine, high blood pressure, shortness of breath, fatigue, skin itch, headache, etc.
The information above is very general. For more detailed information, please contact online doctor or leave a message below.